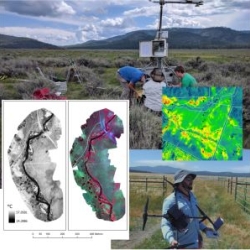 Greenhouse Gas Benefit Monitoring
The IGISc is working with the Sierra Fund and collaborators in SFSU's Geography & Environment (Drs. Baguskas, Blesius, Davis, Nanus, Oliphant) and Biology (Dr. Simonin) departments on geospatial data storage and documentation supporting greenhouse gas (GHG) benefit monitoring for the Clover Valley Ranch Meadow Restoration Project. This research is multifaceted, with related studies of geomorphic, hydrologic, biologic, micrometeorologic, and biogeochemical changes resulting in the meadows being restored by innovative method incorporating the assistance of beavers. The IGISc is assisting field data collection and leading drone and satellite multispectral imaging, and is organizing the storage of diverse geospatial vector data in shapefiles, geodatabases, and imagery, as well as online feature and image services.  Geospatial data will be documented with metadata in accordance with the California Department of Fish and Wildlife (CDFW) Minimum Data Standards and augmented to include FGDC metadata standards. All the data will be uploaded into the UC Davis Clearinghouse, and the data will be used as part of a regional meadows restoration prioritization framework (SM-WRAMP). 
Funding to support this research comes from the CDFW's Greenhouse Gas Reduction Program (funded by Cap-and-Trade auction proceeds from the Greenhouse Reduction Fund), a part of the California Climate Investment program. The IGISc would also like to acknowledge other project partners, landowners and funder that have supported or contributed to the ongoing work in Red Clover Valley including the Wildlife Conservation Board, Red Clover LLC, Natural Resource Conservation Service, U.S. FIsh and Wildlife Service, Point Blue Conservation Science, Plumas Corporation, University of Nevada Reno, CSU Chico, Maidu Summit Consortium, and Swift Water Design.